AKC Bloodhounds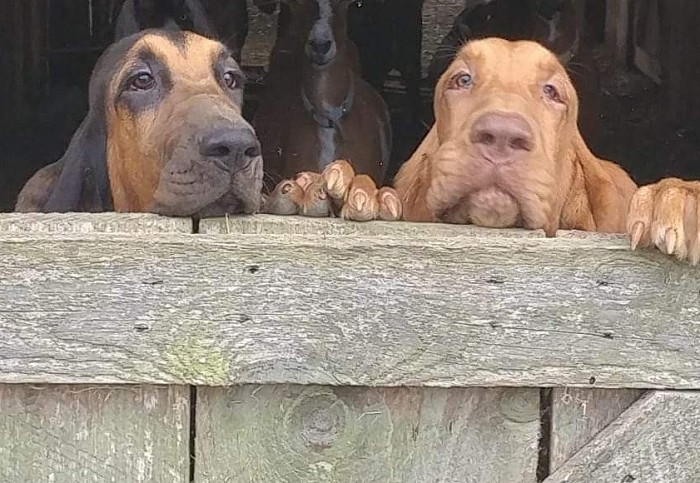 A dream of my father & I has always been to breed & raise Bloodhounds!  I never had the time that you need to dedicate to raising a litter of puppies when working as a veterinary technician, but always said I would begin this adventure with this amazing breed when I could be at the farm full time!  So, here I am finally on this journey with this amazing breed!
We currently have three females in our breeding program: Georgia (black & tan) & her sister Delilah (liver red), who came all of the way here from Georgia.  We also have a co-owned liver red female from a previous litter that we bred (Earl x Delilah litter). We have two males: Earl (black & tan) and Jasper (liver & tan).  We had Earl shipped here from Indiana & Jasper was shipped here from North Carolina!  
We have 2 pups that we are growing out with high hopes of them joining our breeding program in the future!  First, is a black & tan female that we named Josie.  She is an Earl granddaughter & a Jasper daughter.  We are hoping that she carries on her Grand Sire's size along with her Sires proven, champion lines!  The next pup is a male that we recently had flown in from a wonderful breeder in Indiana.  His dam resides in Indiana & his sire was leased from another great breeder in Wyoming for his litter!  He is a beautiful dark, full coat liver & tan.  His name is Wally!  
*Will be posting pictures of everyone as time allows, lots of website updating in the near future*

What do you get when you purchase a Ridgely Acres AKC Bloodhound?
Our pups range in price from $1,000-$1,500 depending on the litter.  All puppies leave here with a health record that includes their vaccine history, dewormers from multiple classes of dewormers,  proof of a negative fecal sample & a veterinary exam.  Every puppy is also microchipped with AKC Reunite microchips.  They are raised on our family farm & are exposed to everything from kids & farm visitors, to livestock big & small from the very beginning, daily.  So, they are extremely well socialized puppies!  Every puppy leaves here with lifetime breeder support as well!
*Puppies will leave with limited AKC registration.  We only offer Full AKC registration with breeding rights on a very limited basis to approved breeding programs only*

Current Litters
On April 26th we welcomed a litter of 10 wonderful, wrinkly bloodhound puppies! Puppies will be ready to leave at 8 weeks old on 6/21/2022. There are 5 girls & 5 boys. There are 5 liver & tans and 5 liver reds.
They will leave here vet checked (with proof of a negative fecal test), microchipped, vaccinated, dewormed multiple times with 3 different classes of dewormers & socialized. They will also take home their puppy health record folders that includes lots of helpful information & their AKC registration paperwork, a collar & leash set & a bag of the puppy food that they will be on to help with them with the transition. 
The sire for this litter is our liver & tan male, Jasper. We had him shipped here to Maryland as a puppy from North Carolina. He has some really nice champion, imported lines behind him! The Dam is our homebred liver red girl, Daisy, who has some very nice lines behind her as well! They are both loaded with wrinkles, have huge ears & have great temperaments. Puppies and parents are raised around everything from kids & farm visitors to livestock big & small from the very beginning, which makes for some really well socialized, confident puppies!
These puppies are $1,500.00 each (Limited AKC- Full AKC will be considered on a very limited basis to approved breeding programs only) & I will require a deposit in order to reserve your puppy & hold he/she until they are ready to leave at 8 weeks.  Once a deposit is made, you will receive weekly update videos of your puppy every weekend.
If you have any further questions, please e-mail, call or text us!  Also, I am well aware of the amount of online scammers, so if you would like to do a live video chat to see the puppies before reserving one, I am more than willing to do that. I have great personal, farm, previous buyer & veterinary references available upon request as well.