AKC Bloodhounds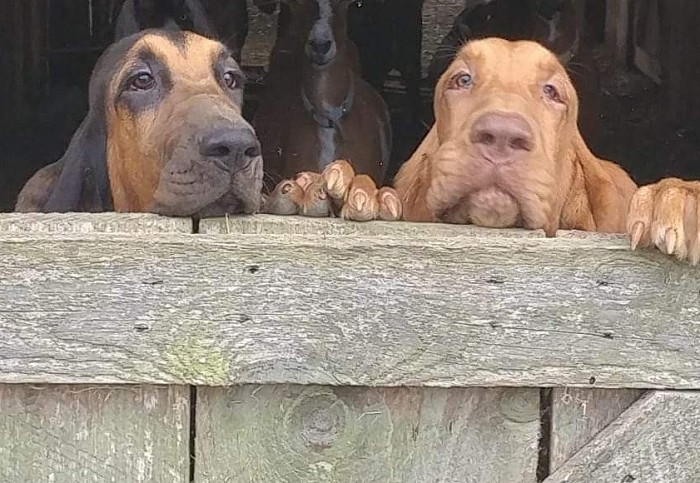 A dream of my father & I has always been to breed & raise Bloodhounds!  I never had the time that you need to dedicate to raising a litter of puppies when working as a veterinary technician, but always said I would begin this adventure with this amazing breed when I could be at the farm full time!  So, here I am starting this journey! 
We currently have three females in our breeding program: Georgia (black & tan) & her sister Delilah (liver red), who came all of the way here from Georgia.  We also have a co-owned liver red female from a previous litter that we bred (Earl x Delilah litter). We have two males: Earl (black & tan) and Jasper (liver & tan).  We had Earl shipped here from Indiana & Jasper was shipped here from North Carolina!  
We have 2 pups that we are growing out with high hopes of them joining our breeding program in the future!  First, is a black & tan female that we named Josie.  She is an Earl granddaughter & a Jasper daughter.  We are hoping that she carries on her Grand Sire's size along with her Sires proven, champion lines!  The next pup is a male that we recently had flown in from a wonderful breeder in Indiana.  His dam resides in Indiana & his sire was leased from another great breeder in Wyoming for his litter!  He is a beautiful dark, full coat liver & tan.  His name is Jasper!  
*Will be posting pictures of everyone as time allows, lots of website updating in the near future*

What do you get when you purchase a Ridgely Acres AKC Bloodhound?
Our pups range in price from $1,000-$1,500 depending on the litter.  All puppies leave here with a health record that includes their vaccine history, dewormers from multiple classes of dewormers,  proof of a negative fecal sample & a veterinary exam.  Every puppy is also microchipped with AKC Reunite microchips.  They are raised on our family farm & are exposed to everything from kids & farm visitors, to livestock big & small from the very beginning, daily.  So, they are extremely well socialized puppies!  Every puppy leaves here with lifetime breeder support as well!
*Puppies will leave with limited AKC registration.  We only offer Full AKC registration with breeding rights on a very limited basis to approved breeding programs only*

Upcoming AKC Bloodhound Litters
We have two of our liver red AKC Females coming into heat around January/February 2022.  They will be bred to our Liver & Tan stud.  If the breedings take, we would be expecting puppies around March/April 2022!  
Please contact us with your name & email address if you would like to be added to our wait list!